Pull on your finely tailored suit and slide your favourite Cuban cigar into your pocket before you walk your dapper self through the wealthy district of St. James's, an exquisitely presented neighbourhood with a retained 17th century exclusiveness that sees it home to a warren of grand hotels, corporate headquarters and gentleman's clubs.
Find moreish delis and wine merchants, bespoke tailors and leather goods suppliers in and amongst art galleries, jewellers and restaurants on Jermyn Street and St James's Street, before ogling posters of popular productions in residence outside the famed theatres lining Haymarket.
Moments from pretty Green Park and aristocratic Pall Mall, is St James's Palace, a busy working palace which contains the London residences of The Prince of Wales, The Duchess of Cornwall and Prince William and Prince Harry. To its eastern side is iconic road The Mall which ceremoniously frames the route to Buckingham Palace in all its grandeur and provides entry to the tranquil, landscaped greenery of St James's Park, the oldest of the capital's eight Royal Parks, with its sociable wildlife and picture perfect lake.
Millions of Londoners and tourists from near and far visit the district of St James's every year to witness such spectacular pageants as Trooping the Colour (13 June this year) and community sporting events as the London Marathon (26 April) and the lure of this destination doesn't fail to bring in the business tourist too. It's a heartland for global conferences and corporate get-togethers, exclusive awards ceremonies and parties.
Amongst our favourite venues is 10-11 Carlton House Terrace, a Roman Classical styled terrace dating back to the 1820s. It was built on the order of the Prince Regent, who later became George IV, with a desire in mind for its residents to enjoy far-reaching views of St James's Park. Both number 10 and 11 were private homes to such high profile members of society as Prime Minister Gladstone and it was at the onset of World War I that the residents of number 10 opened up their home as a hospital for injured officers.
Despite bad damage sustained to the terrace during World War II, much of the venue's interior remains intact and today, its characterful rooms house both the British Academy and all number of conferences, meetings, dinners and receptions for up to 600. You might even recognise the venue's façade as the Diogenes Club from the BBC's recent Sherlock Holmes series and as a stately home to the period drama Mr Selfridge.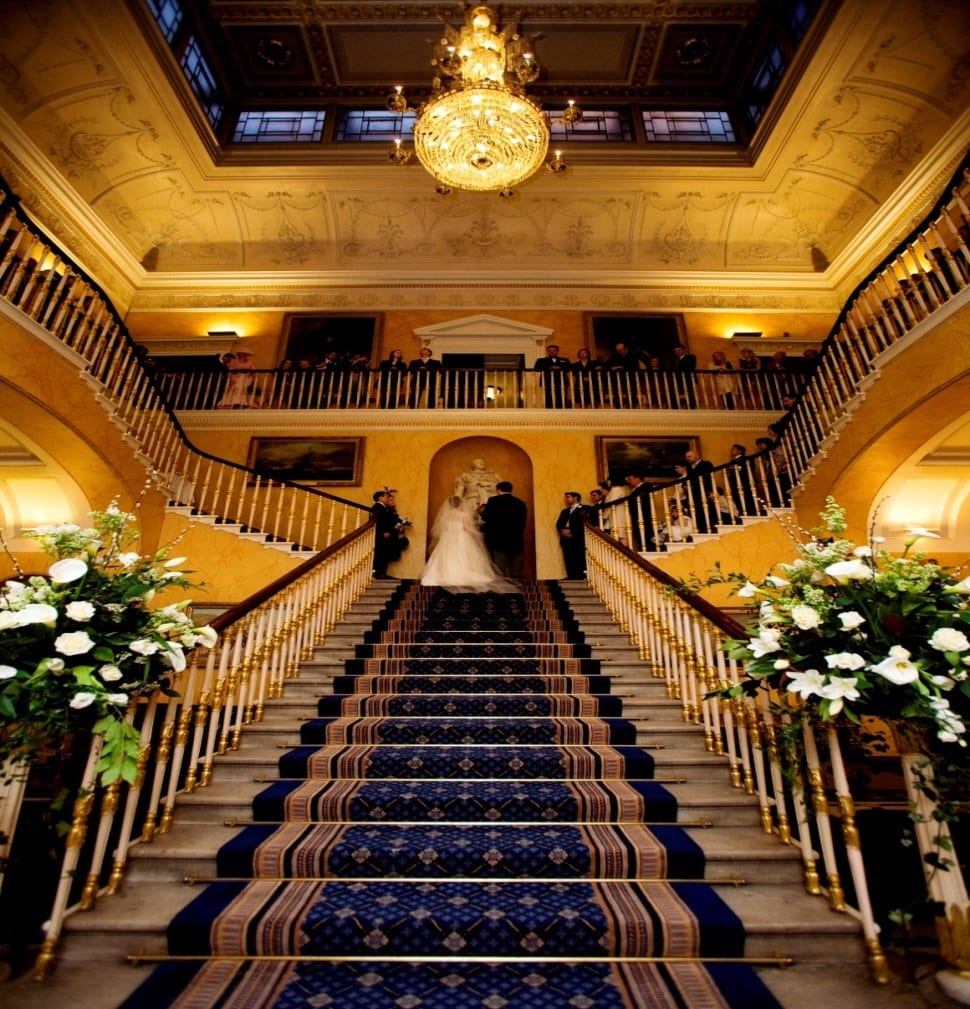 Another of John Nash's architectural feats is the Grade I listed 116 Pall Mall, the Institute of Directors' headquarters with many a story to tell to excite the event planner looking for glory and heritage under one attractive roof. The Dark Knight, Ghandi and Foyles War were all filmed at the venue and it is one of only a small number of London locations that conceals a large, private garden perfect for outdoor events. Light the 20 original cast iron flambeaux that surround the venue for atmospheric evening illumination.
Find magnificent original paintings of the Regency period on the balcony of 116, many reflecting the naval and military history of the building and include two 16-foot wide oils depicting the Battles of Waterloo and Trafalgar and portraits of Lord Nelson and the Duke of Wellington. Marvel then at the magnificent 15-foot, hand-made Regency chandelier which was presented as a gift to the club by George IV in the early 19th century to commemorate the Battle of Waterloo.
With ability to cater for capacities of 10 to 400 people, 116 Pall Mall's exquisite function rooms range from the elaborate and traditional to the understated, all revealing stunning Regency architecture and spectacular works of art. They can be hired individually or as interlinking combinations of spaces, all receiving natural light.
For something altogether more leisurely, why not treat yourself or your clients to an afternoon of indulgence by escaping to the elegant surrounds of the Army & Navy Club's Ladies' Drawing Room for one of the most sensational, quintessentially British afternoon teas you'll find in the area. Savoury treats and sweet delicacies entice and delight – choose from chilled, still fruit tea, strawberry dusted vanilla marshmallow, passion fruit and vanilla Catherine Wheels, lemon macaroons and British apple meringue pies – while traditional favourites, exquisite sandwiches and freshly-baked scones complete the enchanting experience. Priced at £38 per person, it's an affordable treat for you and friends or colleagues. Just be sure to book at least 48 hours ahead by contacting Elana Kruger on [email protected].
The Westminster Collection brings together some of the finest and most unusual venues right across the City of Westminster, all located in zone one. Explore the venues we represent here, or use our interactive map to search by location.